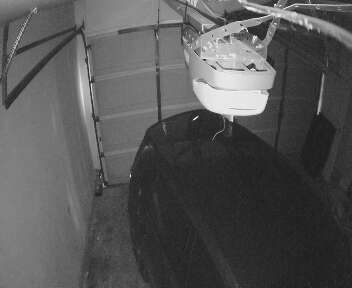 Introduction
I wanted to know if the garage door is left open. This is how I trained my computer to text me when it has been open for too long.
Detecting if a garage door is open or closed is a surprisingly challenging problem. It is possible to do this with contact sensors or even with a motion (PIR) sensor, but that requires running additional wires and a controller.
My solution was to put a wireless IP camera to the ceiling. It connects to my home network using wifi and plugs into the same power outlet as the garage door opener.
Traditional video security analytics such as motion or line cross does not adequitely detect the door being left open. Both motion and line cross depend on something happening to trigger. This is different because I am looking the position of the garage door instead of movement.
I also looked at a traditional computer vision solution to detect sunlight coming in throuogh the open door. Ultimately trying to detect based on the 'brightness' of the scene would not work in this situation. The way the camera is position it would not be able to differential bewteen the light from the ceiling and sunlight coming in through the garage door. This also would not work at night or during a storm. A different tool is needed.
I wanted to experiment with creating a machine learning model. This is a great first project to get start with.